Browsing articles tagged with " Design Something EveryDay"
Playing around today, wishing it was football season…
Check out my set of daily designs; a project where I create a piece of design everyday. It is a fun and challenging project, the following is my set through October, let me know what you think.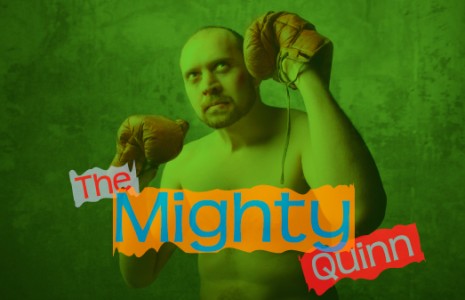 I've been creating daily designs made in 15 minutes or so and putting them up on special flickr set. I am using this as a way to experiment and hone my craft.  Check them out…
I saw these amazing images that used a faked version of tilt shift photography on some paintings by Vincent Van Gogh. These great images were created by Mathieu S of theswedishbed.com. I thought it was a cool idea to use a technique that is typically used on a photograph and use it on a traditional painting instead. Tilt shift photography is a style that by using a special lens, makes a photograph of  the real world look like it's a model (see here). When it's used on a painting,  I think it looks like a pop-up book.
Above is my first attempt at this technique using this painting by the French Impressionist Camille Pissarro. I'll post some more of my experiments, leading to an actual tutorial to give my thoughts.
In the mean time these are good tutorials about how to achieve this effect. The technique relys on blurring parts of the image and tweaking the saturation and levels. My quick tip that I'd add is to  keep a non-blurred layer underneath the blurred layer, then use a layer mask on the blurred layer to to give more control over what you want the viewer to focus on, more on that later.
Visual Photoguide: how to make a fake miniature
Also here's a cool video that combines tilt shift photography and adds in stop motion for a tilt shift video of Disneyworld. That's pretty cool if you ask me.
A little illustration I did in preparation for spring. Though in Seattle with our rain, spring seems very far away.
Design Something Everyday 16/365
After reading the amazing tutorial "How to Creat a Retro Boxing Poster in Photoshop" from James Davies I was inspired to give it a whirl. I didn't get quite as faux-vintage as James did, but went in my own direction. Turning it into a preview of some upcoming clashes in Survivor. If you're a fan of the show you'll get the gags.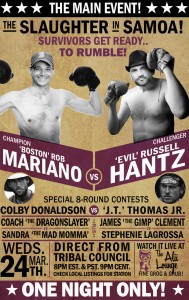 I found a great article in Esquire wherein book jacket designer extraordinaire Chip Kidd discusses the thinking and methods that underlie some of his recent work. One typography trick  that is particularly useful is how he created the distressed text for his cover of Cormack McCarthy's The Road:
The font is one of the oldest tricks in the book. You typeset text in a regular font, I think this was Rotis, and then you blow it up really big on a Xerox machine and then you shrink it down really small. The trick is to see just how much you can distress it and keep it readable. It's gotten harder to do because Xerox machines are so much better, but if you've got a wonderfully shitty machine it will look all corroded and gummy and yucky. It takes a bit of playing around, but it's really not that hard.
With that tip as inspiration I used the same technique to make these little design posters. The typeface is Rockwell Bold and each letter was blown up 1600% on a Toshiba photocopier, before being digitally reduced. The Toshiba was too new to give the type a truly wonderfully gummy yucky look, but it was a good exercise. Even with all of our digital tricks, it is pretty fun to get in there with some old school techniques.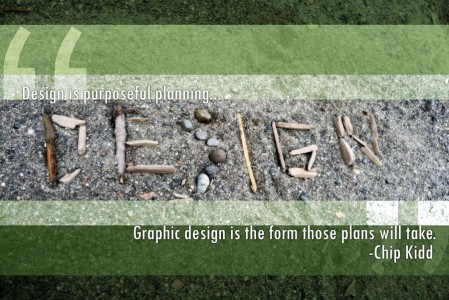 I was at the park with my kids playing in the sand box and I recalled this quote from Chip Kidd's wonderful novel The Cheese Monkeys: A Novel in Two Semesters: "Design is purposeful planning… Graphic design is the form those plans will take." Between the juice boxes and pushing kids on the swing I tried to represent that with sand, sticks and pebbles.
Anyone who is interested in literature or good storytelling would like The Cheese Monkey's, but for designers, I highly recommend Kidd's book for many reasons, first it is a gripping tale of Happy (the protagonist) discovering himself and the world he inhabits. Second, the host of characters that Kidd creates are unforgettable, especially Himillsy Dodd and Winter Sorbeck. Finally, the book is full of great nuggets about graphic design. That last point is something designers should enjoy, or at least provoke some food for thought. It isn't often that graphic design gets so eloquently discussed, defended and criticized in any form, let alone a novel. Having the history, purpose and practice of graphic design examined in fiction is refreshing.
Links:
Here are some great interviews/talks by and with Chip Kidd:
Design Something Everyday: 12/365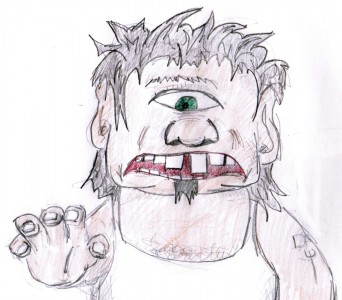 Here's a little sketch for my design something every day project. Imagine yourself as one of clever Odysseus' men in the cave of the Cyclops, and one-eyed Polyphemus, son of Poseidon, reaches down to devour you, or as Samuel Butler gruesomely put it in his translation:
The cruel wretch vouchsafed me not one word of answer, but with a sudden clutch he gripped up two of my men at once and dashed them down upon the ground as though they had been puppies. Their brains were shed upon the ground, and the earth was wet with their blood. Then he tore them limb from limb and supped upon them. He gobbled them up like a lion in the wilderness, flesh, bones, marrow, and entrails, without leaving anything uneaten." — Homer, The Odyssey Book 9, trans. Samuel Butler.
Links:
The Odyssey, by Homer Translated by Samuel Butler via the Classics Archive at MIT.
Free online audio version of the Butler translation of They Odyssey at Librivox. Although it is great to read Homer, one should listen to a good reading of his epics. Considering that's how most in the ancient world were exposed to them, I find it fun to listen to them being read. It makes me feel like I am walking in their shoes, er sandals.
Design Something Everyday 11/365: In honor of my love of maps, information graphics and Virgil, I decided to imagine Aeneas journey as if it were a subway map. So enjoy. Don't forget your subway token's for Charon!
I have always loved maps, as a child I would look at our world atlas and ponder the far flung reaches of the globe. Then I discovered a historical atlas at my school and realized that maps could not only take you horizontally across the globe but also vertically in to the distant past.
A period I found particularly fascinating was the Roman Empire. I'd gaze at the maps showing the roads stretching out from Rome like a web uniting the disparate corners western world under the the banner of The Senate and People of Rome – SPQR.
The great poet Publius Vergilius Maro, better known to us today as Virgil wrote his masterpiece the Aeneid at the same time Rome was nearing the apex of it's power and confidence. This magnificent poem was written to, amongst other things, create a mythologized past for the Romans of the first century CE, particularly for Virgil's patron, the Emperor Augustus. As such, the poem depicts the Romans  as a people not great at skill in art, destined to rule.
Let others better mold the running mass
Of metals, and inform the breathing brass,
And soften into flesh a marble face;
Plead better at the bar; describe the skies,
And when the stars descend, and when they rise.
But, Rome, 't is thine alone, with awful sway,
To rule mankind, and make the world obey,
Disposing peace and war by thy own majestic way;
To tame the proud, the fetter'd slave to free:
These are imperial arts, and worthy thee."
–The Aeneid, Book 6 Translated by John Dryden
This passage takes place during a conversation between Aeneas and his dead father Ancheises in the underworld. This is direct allusion to Homer and The Odyssey. In Homer's work must his hero Odysseus must visit a cave where he will summon the dead seer Tiresias (amongst other dead celebs). By doing this he will gain the knowledge to compete his quest and finally reach the far shores of Ithica.
In the Aeneid, Aeneas has the same quest but he actually has to travel through the land of the dead, instead of just waiting at the gate like Odysseus. This is one of the most important and vivid parts of the poem. His journey has inspired artists and poets for centuries, now it has inspired a daily design and underworld subway map!
Links & Sources: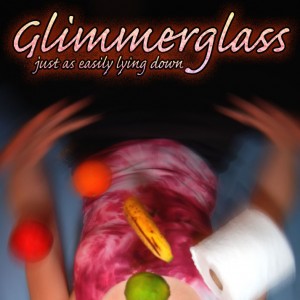 Another "CD Cover Design Game" In hindsight it probably didn't work as well as I would of liked, but blogs are for experimentation. Though I must admit I am rather fond of the typeface, Caflisch Script Pro. It is a very beautiful typeface based on Designer Max Caflisch's handwriting! That is great pen control.
Caflisch Script is based on the handwriting of Max Caflisch, one of the foremost graphic designers of this century. Caflisch, a teacher of graphic arts for over three decades in Zurich, is author of several books on typography and designer of the 1952 Columna typeface.

Caflisch´s handwriting has a free flowing yet disciplined character, the result of years of practice and devotion to the calligraphic arts. Slimbach retained the subtleties and natural letter joins of Caflisch´s original handwriting while adapting it into a typographically sound and highly practical script typeface. – From MyFonts.com
An homage to one of my favorite movies, David Lean's masterpiece Lawrence of Arabia, done in motivational computer desktop wall paper style. A film that was truly meant for the big screen.
Recent Posts
Devlin Donnelly Recommends